Discover a New Approach to Health and Wellness
An alternative point of view with ozone therapy, holistic alternative medicine, and functional medicine in Homestead, FL.
If you're dealing with acute or chronic health conditions, KB Holistic offers ozone therapy services for residents in Homestead, FL. Ozone therapy has been used to help patients enhance immune function and detoxify by eliminating microscopic pathogens. And our functional medicine approach means individualized care not based on "average" results, but based on YOUR results.
What is Ozone Therapy?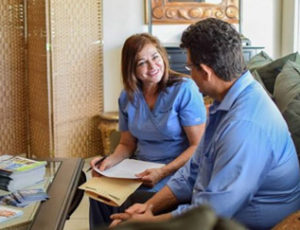 Ozone therapy is an alternative medical treatment that aims to enhance the immune system's performance both directly and indirectly. It involves introducing ozone, a type of oxygen, into the patient's bloodstream. This is done through a process of drawing the patient's blood, treating it with ozone, and then injecting it back into the bloodstream.
Ozone therapy helps to effectively regulate the immune system by stimulating an underperforming immune system, such as in cases of chronic infections or cancer, and calming an overactive immune system, as seen in autoimmune diseases. This is because ozone has a modulating effect on the immune system.
Benefits of Ozone Therapy
Ozone therapy has many benefits, including:
Treating chronic joint and back pain
Improving circulation, increasing oxygen delivery to organs and tissues
Improving/modulating the immune system
Improving the efficiency of oxygen delivery from hemoglobin to the tissues
Improving the flexibility of red blood cells to enter capillaries to deliver oxygen
Improving the function of mitochondria (subcellular energy-producing structures)
Counteracting viruses, fungi, yeast, and bacteria
Functional Medicine in Homestead, FL

We also offer more than ozone therapy at KB Holistic in Miami, not far from Homestead. We offer PRP therapy, ThermiVa, the P-Shot, and functional medicine services. KB Holistic is a holistic alternative medicine practice. Dr. Karen Bravo approaches patient care from a functional medicine approach, rather than a traditional approach. Each patient is unique and needs unique and individualized care.
What is Functional Medicine?
Functional medicine adopts a holistic approach to promote an individual's well-being, focusing on identifying and addressing the underlying causes of diseases and ailments. Unlike conventional medicine, which interprets lab results based on a "normal" range, functional medicine analyzes values that are unique to the individual.
KB Holistic provides Homestead residents with ozone therapy and functional medicine services to help them discover their body's optimal immune balance and take control of their immune health. If you would like to schedule a consultation or learn more about these treatments, please contact us today.
Hyperbaric Ozone Therapy in Homestead, FL
We also offer a high-dose hyperbaric ozone therapy services.
Who would benefit from Hyperbaric Ozone Therapy?
Residents of Homestead, FL, who suffer from chronic back or joint pain, have an overactive immune system, or want to boost their underactive immune system, may find hyperbaric ozone therapy to be a suitable option. KB Holistic provides hyperbaric ozone therapy to residents of Homestead, FL, at our Miami office.
What is Hyperbaric Ozone Therapy?
Hyperbaric ozone therapy is a treatment that delivers a high concentration and volume of ozone under pressure, resulting in enhanced potency. This therapy involves quickly withdrawing 200 ccs of the patient's blood into a sterilized glass bottle, mixing it with ozone under pressure, and returning it to the patient. This process is then repeated 8 to 10 times per session. If you are a resident of Homestead, FL, take control of your health and explore the benefits of hyperbaric ozone therapy at KB Holistic.
Holistic Alternative Medicine in Homestead, Florida

KB Holistic provides alternative medicine services that take a holistic approach to healing and balancing the body for residents of Homestead, FL, promoting ideal internal conditions for each individual.
Homestead is a charming city located in Miami-Dade County, Florida. Homestead is home to several national parks, including Everglades National Park and Biscayne National Park. Homestead also boasts a vibrant downtown area with local boutiques, restaurants, and art galleries, providing a unique blend of modern and historic charm. Are you a resident of Homestead, FL looking for alternative holistic medicine to improve your health and well-being? KB Holistic offers hyperbaric ozone therapy, Platelet Rich Plasma Therapy, and other treatments to help you achieve your health goals. Take charge of your health today and contact us to schedule a consultation.
KB Holistic is located just south of Quail Roost Drive (State Road 994) on SW 155th Ave. We are just a few miles south west of Zoo Miami, and approximately 10 minutes west off the Turnpike.
We serve communities throughout Miami-Dade County, including: